You are currently browsing the monthly archive for May 2008.
I feel so incredibly uninspired lately. I know that it is partly because we only have 27 more days until we get packed out and move to the hotel and there is still an unbelievable amount of things to be accomplished. I know that it is because I am so completely tired lately, you know with producing another human being inside of my body while chasing after a wild 16 month old every day. And the other part is that last week was hard. Mentally. I am trying to get my brain wrapped around the fact that when we go home in 37 days, Mom won't be there.
Ever.
I keep going over how it all happened in August and September and I find that I am forgetting things. For example: Who picked DH up at O'Hare when he flew in? If I was the one, I certainly don't remember it. And if it was me, why can't I remember it? Little things like that. I know that it was a whirlwind of events that transpired and nobody on the face of this Earth thought that it would happen so fast.
But still.
Even though I haven't been exceptionally inspired, I am still crafting and knitting.
I made this pincushion for my partner on the pincushion swap on Ravelry. I think that it turned out pretty cute. She loves dragonflies. It is made with all thrifted materials. Thrifted and felted sweaters actually with a charming vintage rhinestone button on the bottom. 100% hand stitched by me.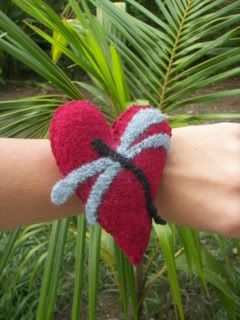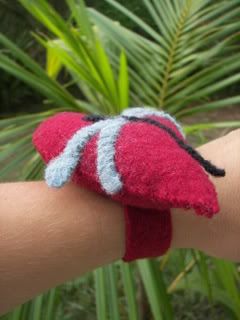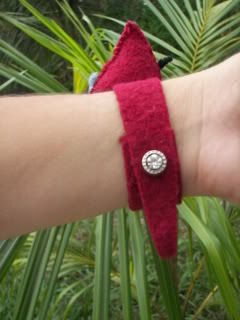 A new pic of the new Clap. I am now on my 3rd repeat. Yay. I am absolutely loving the way the Noro is striping. I am on the 3rd skein.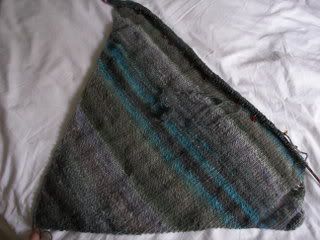 A new pic of the Monkey's. I have since completed the heel flap…on to turning the heel! If I thought that I was loving the Noro on my Clap, I am loving the Socks that Rock yarn as much, if not more. All thanks to the lovely and incredibly generous Phoe.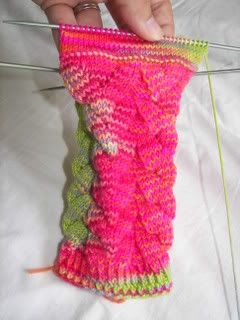 The other thing that has been occupying my less than abundant free time is this…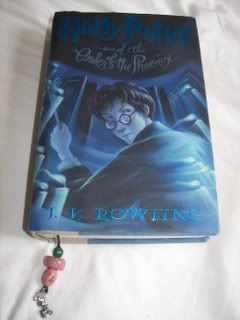 I love these books and will be sad when I finish the series. Did you see my little bookmarker thingy hanging out of the book? A lady that works with my MIL & Step-Mom makes these book markers, she calls them "book thongs" because they fit nicely in the crack. HA! I have a couple of them, this one is pretty great in my opinion…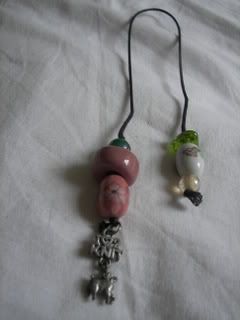 The charm says I*heart*2Knit and has a dangling sheep. Love it. I am so easy to please.
Peace.
I bet that everyone has played the gas game at some point.  You know, where you keep an eye on prices and as soon as one retailer raises their prices, you go fill up at the competitor while the price is still low?
I am on my way out the door as soon as BTH wakes from his nap to play the gas game.  Because Mobil raised their price for regular to $4.62/gallon.  Shell will probably follow suit tonight.  We only have 2 options for gas here, Mobil or Shell.  I can't understand how the price has gone up almost 20 cents a gallon in a week.  I understand that oil futures are closing at record amounts…I get it, but 20 cents in one week?
Oh, and to the person that hit our car yesteday in the office parking lot, leaving a big dent and paint scrape on our passenger side front, thanks.  Thanks for leaving the scene without putting a note on the car with your contact information.  It was an especially nice thank you to my husband, an active duty military member, who had to work yesterday while you enjoyed the day off to observe the ulitmate sacrifices that military members have given our country.  Thanks.
I will be back later with pictures of fun stuff.  Because blog posting without pictures is no fun.
Peace.
I stay home 90% of the time.  I am a true "homebody", I come by it naturally.  I can go out any day of the week if I so wished, DH rides his bike to work most days and on the days that he drives, I can always strap BTH on the back of my bike and go for a spin.  I just choose not to.  I didn't go out at all this week until this morning to run errands.
Imagine my surprise when I saw that a gallon of gas had gone from $4.44 a gallon to $4.56.  Yikes!
Good thing that I like to stay home!
Only 40 days left on Saipan!
Peace.
I have been cooking today! That is unusual for our house, DH is the chef in the family, I am pretty much the baker. But I haven't felt like baking lately (until today) because of the insane heat. As I was cooking today, I had some random food thoughts run through my head:
Cleaning canned salmon is disgusting. I made salmon patties for dinner and was thoroughly grossed out by the time I got it all cleaned. DH just kind of mashes everything together (that's why I like to make them), so when he makes them, you get extra crunchy bits from the tiny bones. I do it like Granny and pick it all apart.
I can't wait until we go home…I am seriously craving blue cheese stuffed olives. Mmmm. I could sit down and eat a bowl full. Top of my grocery list will be a jar of olives and a slab of blue cheese. All you have to do is pick out the pimento with a toothpick and jam some blue cheese inside. If there are any that aren't consumed immediately, put them in the refrigerator and they get even better.
I baked tonight! Organic blueberry muffins. I used Paula Deen's recipe for blackberry muffins, but since we don't have blackberries, I subbed organic frozen blueberries. Oh, and I added some of the drained blueberry juice to the batter because it was crazy thick. They aren't pretty, but they are freakishly tasty. I think that the sprinkles of raw sugar on the top help!

My pal, Deece, gave me a bag of truffles for Mother's Day. As I was slicing one in half the other day (what! I know…I haven't scarfed them all down yet?!?!), I paused for a second and rotated the truffle a bit so that it was the first letter of our last name. Cute! Or maybe I am just a dork. Don't.answer.that.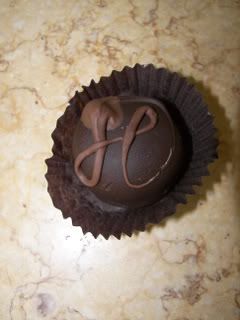 So you can see that it truly is double chocolate…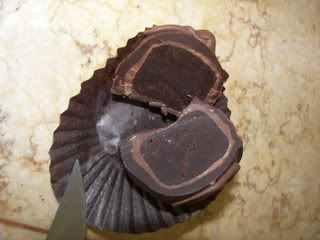 I was playing around with BTH today, just snapping some random photos of us. I think that the caption for this one should be:
"Oh, I am going to have a brother or a sister? That's awesome, that rocks! I am so happy. Please don't notice the cracker crumb on my face, notice my cuteness instead."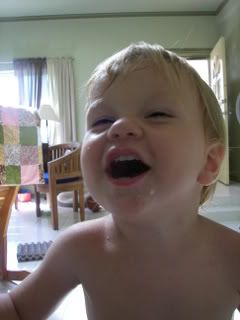 Then the caption for this one would be:
"Remember how excited I was, how I said that it "rocked" and that it was "awesome"? Yeah, I lied. 16 months old and I have this faking out the parents thing in the bag. This is how I really feel. You probably won't even notice my middle finger as I slyly put it up."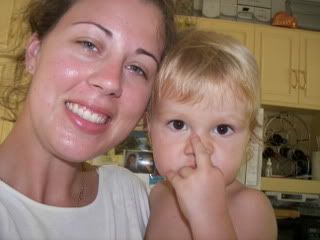 Ya'll, I have been beyond tired lately. It is getting absolutely pathetic. I am too tired to knit at night. How pathetic is that? I did get to the heel flap of my monkeys and am plugging away at them…I think that they are going to be ginormous though, if the heel flap is any indication. I have been reading quite a bit. In the last two weeks, I have re-read books 1-3 of the Harry Potter series. I got a bunch for Christmas from my Dad & Step-Mom (hardcover, first edition natch) and am working my way through them. The plan is to have them all read by the time we are packed up. That includes reading book 7 for the first time. I can't believe that I haven't heard any spoilers about book 7 yet beyond "somebody dies". If you have an inkling to spoil it for me now, don't do it…I will hate you forever.
Oh yeah, my dear Barack is on a total roll…we should be pretty much done by May 31. I found this today via Ravelry and thought it was great. I will post more later this week…I found a bunch.
Okay, so it isn't "brand new". In true tree hugger style, I took an old pillowcase (recently bought off ebay) and repurposed it into a bag. (I also made a liner for it since this particular pillowcase is a tad worn in some spots)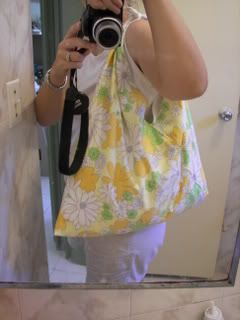 If it reminds you of sheets that you had as a child, I don't want to hear about it. I think that it is totally nifty. And roomy. It will be great holding my knitting stuff for tonight's knitting night get together.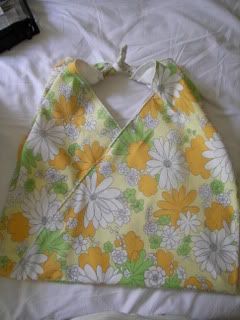 Speaking of knitting, the monkeys are growing…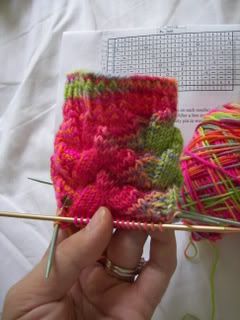 Now onto the 4th repeat of the pattern on the first sock. At this rate, I should have them done in two more weeks, HA! That is okay, as long as they are done and blocked by the time we get on a plane to leave this rock, we will be golden. Speaking of leaving this rock, only 49 more days here and 39 until we get to move to the hotel. Not like I am counting or anything.
Oh, and if anyone here on Saipan is planning on moving off island and taking their pets with them, don't bother to call Continental to ship the animal…I almost started to cry when the lady told me that they no longer ship animals from here. Seriously, my heart sank as I immediately thought of having to leave them behind. Call Northwest instead.
Thank you everyone for your comments on our little addition! I am trying to get a chance to respond to everyone individually. I feel fine so far, just a bit more tired than usual and almost no appetite. Oh, and I have dog nose big time. You know, when you can smell things from 50 feet away that you would have never smelled before?  That's dog nose.
Peace.