You are currently browsing the daily archive for May 13, 2008.
I know, my last post was a huge drag. Sorry about that. I just have to put the absurdity (is that a word?) of the system out there every now and again. I will try to not bitch and moan about this place any more. Let's think of happier thoughts, okay?
Happy thought #1
Swaps!
I joined a couple of swaps on Ravelry lately and I am having the best time. It would only be better if I had an actual yarn store that I could go to and buy yarn, for now the internets will have to make do. There are two yarn shops in Juneau, that is a happy thought for sure.
This is a picture of one of the swaps that I sent: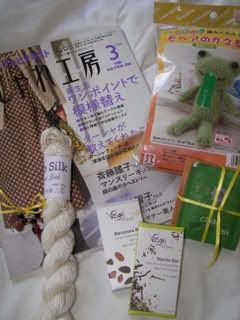 Silk yarn, assorted teas, stitch markers made by moi, crochet frog kit from Japan (because I realized that I can't read Japanese), a Japanese craft magazine, a couple of bars of gourmet chocolates. My partner is in California and she can read & write Japanese. Yay, her! She hasn't received it yet, should be there in a couple of days.
Today I got my swap package in the mail…all the way from Canada, eh.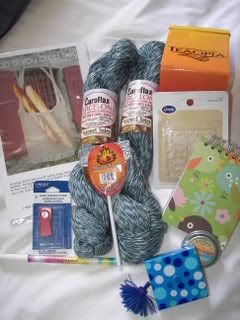 2 skiens of Euroflax wet spun Linen, a knitted shopping bag pattern, a kick ass tape measure (little blue box at bottom), a tin of lip balm, a note pad of recycled paper, a pen from the yarn store, hair bands that function as stitch markers, point protectors for my needles, a maple sucker shaped like a maple leaf and a bag of sweet lemon drop black tea (smells absolutely divine). Spoiled much? I love love love everything! And she really kept in mind the fact that I am a tree hugger, gotta love that!
Happy thought #2
Sock knitting! I started a new pair of socks yesterday. They are Monkeys from the famous Cookie A. I am using yarn that is a dream to work with according to my fingers…Blue Moon Fiber Arts "Socks That Rock" mediumweight. I lurve this stuff. The color is sherbet and I got it from my pal, Phoe. She is a doll.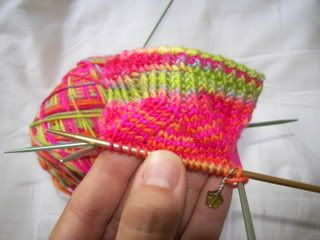 I love how they are pink on one side and green on the other. Too cool!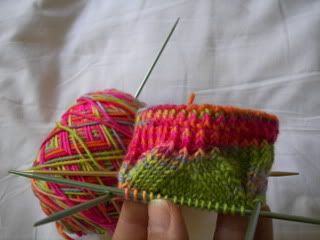 I have done one repeat of the lace pattern. And…this is a big and…I am following the lace chart pattern instead of the written out pattern. Always trying to broaden my horizons, that's me.
Happy thought #3
A new Clap! I mentioned that I started a new Clapotis…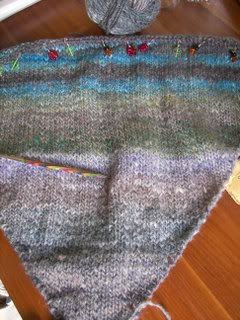 Isn't she gorgeous? Noro Kureyon #150…I adore the way that the colors are coming out. I am on my last little bit before I start the next section, the dropping stitches section!!! I am on my second ball of the Noro. I am having a hard time switching between my new Clap and the Monkey socks. I know, poor me.
Happy thought #4
Babies!
Found out last friday that our family is growing! The new BTH is expected to arrive January 6, 2009…just in time for his/her brother BTH's second birthday. Now, that is exciting! If it is a girl, I can say BTH & STH and make it brother tree hugger & sister tree hugger. Tree hugger babies, tres cute!
Peace.