You are currently browsing the category archive for the 'taxes' category.
And what are you looking for? Don't get me wrong, I love having a bunch of visitors to my little ole blog. But I can't imagine that my little spot on these internets is that interesting to 177 people.
Did I tell you before that I lurve WordPress? I do. I love the layout, the simplicity of it (once you get used to it), and the automatic stats. I like to see what people are searching for that leads them to my blog, I like to see what people click on, I like to see where people are coming from. But I really like to see the numbers. I usually get between 50-75 hits per day. For some people, that is chicken scratch. But for little old me, my heart about bursts with happiness when I see my stats. Especially today's…177 visits to A Tree Hugger's Wife.
Thank you, every single one of you. You just made my 3 hour power outage this morning seem not so bad. You made my day. I shall reward you with pictures of yarn and knitting content, ha ha.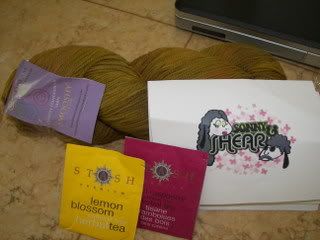 You thought I was kidding, right? Nope. Yesterday I got my first ever order from Sonny & Shear. And it won't be the last. They had a promo a couple weeks ago for 20% off I believe…they used the clever code "GeorgeGaveMeYarnMoney" (nod to stimulus checks). Now, our stimulus check was unfortunately, not what we were expecting because of the way we fall in the tax bracket scheme or something, but it was still free money. Dutifully we put most of it to paying off debt, but I couldn't help myself from spending $20.
A skien of Dream In Color Smooshy in the "Strange Harvest" colorway, and they included a hand written note and a couple of teas…I am glad that one is lemon, it is my favorite.
The yarn will be knit into gift socks. Now I just have to decide what pattern to use. What do you think..
or
I am leaning more toward Hedgerow, but the Hederas are gorgeous (scroll down that page to see more pics). I need to decide soon.
Oh, I also got another purchase in the mail yesterday (Debi, you will love this!):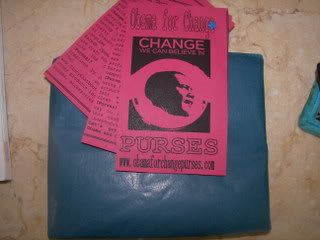 My "Obama for Change" coin purse. I love it! Here is the front: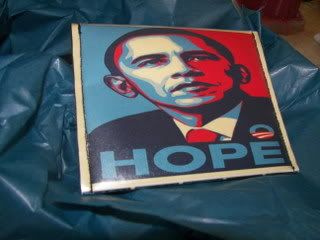 And here is the back: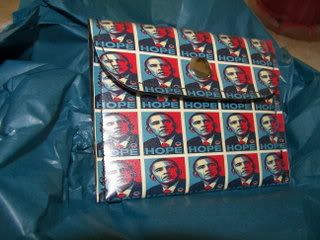 I got it from this etsy seller:  FancyThatBoutique
Quite appropriate since this week is a big week for our man!
Peace.
I can't stop thinking about taxes this week. A couple of reasons, really.
Could it be because my former employers (a Psychiatrist and Dermatologist husband & wife practice) failed to report a couple of million dollars in earned income for the practice and he is being indicted on Tuesday? I about fell over when I read that they only reported income for the practice in 2002 as $71,680 when it was really over $600,000. Story here.

Seriously, it wasn't uncommon for us to see 60-80 clients a day in the Dermatology office. Yeah, we worked 12 hours a day most days. Lots of 5 & 10 minute appointments. Plus all of the cosmetic stuff that we did; Botox, Sclerotherapy (spider vein removal via injections), Microdermabrasions, Peels, etc. That stuff isn't cheap.
I now shake my head at my naivete back then when I accepted the stupid story of how they were so broke and could only give annual raises of 15 CENTS. And to think that I felt badly for them.
Wonder what will happen to his practice in Beirut if he has to go to jail in America?
Maybe I have taxes on the brain also because we are STILL waiting for our freaking return for 2005 from Guam. WTF is taking so long? DH called them last week and they said that they were still working on the 2004 taxes. There should be some kind of law against this. Or else we should be allowed to earn additional interest on our return since they haven't disbursed the money yet and still have it. I think that we will be lucky if we see the money before we move from Saipan in 2008. Good thing that we didn't have specific plans for it.
I am still waiting on my W-2 from my old job in Guam…I called last week and the office manager said that they were mailed on 1-31 via USPS certified mail. Sometimes I think that our mail gets thrown on a raft and floats here it takes so long to get to us.
***********
For a happy thought of the day, here is a new-ish picture of Connor. Hard to believe that he was 6 weeks old on Thursday. I already have been thinking hard about when to start trying for #2. For anyone who cares to comment, how much time do you think is a good amount between kids? I was thinking 2 years… but then again there is the possibility that we will be stationed somewhere remote during our next tour….Alaska or St. Thomas come to mind. I kinda wanted to be closer to family for the next one.
Anyway, here he is…the love of my life…all freshly bathed:

Happy Birthday, Jenn!!!
Peace