You are currently browsing the category archive for the 'vacation' category.
Pardon the dust…I am working on changing things up here a little bit.  You will see things come and go from the sidebar and appearances change – all part of a bigger plan.
Meanwhile, I have lots of knitting to show you.  Unfortunately, not my Garter Yoke Cardigan.  I took a great self portrait using my old camera and when I went to put my old memory card into my new camera, I deleted the photos, forgetting that I hadn't saved that particular series.  Darn.  Will have to have DH help me out with a new photoshoot.
Oh, and did you know that we just got back from a 10 day vacation to Hawai'i?  Without kids…!  Let's just take a break for a minute, shall we?
Sunset Beach, North Shore of Oahu.  Pretty much the only part of Oahu that I liked.  Waikiki and Honolulu are so not me.  I am a Big Island girl.  At least so far.
Back to the knitting.
Multnomah mini shawl (free pattern)
Knitted for DH's Aunt
Noro Silk Garden Sock
Size 4 Addi Turbo Lace Needles
So, yeah.  This pattern was tricksy for me.  I made it harder than it was and worked the increase section to 266 stitches.  Why?  Well because I have a problem reading and remembering numbers.  I also went up a needle size because I tend to be a tight knitter.  It all worked out ok, I just did fewer repeats of the feather and fan border.  My first mini shawl, I can see more of these in my future.
Another first.  My first colorwork project.  Super addicting.  I had hopes of it fitting the toddler, with even bigger hopes of making us all matchy matchy family hats for the winter.  It turned out to be too big for the toddler, but too small for my giant nugget, or DH's almost as large head.  So, it went to my friend, Estrella.  Owner of a petite cranium.  I do still plan on doing a family matchy-matchy hat theme this year, just will make some basic changes to this pattern (which is already great).  Stay tuned.
Norwegian Star Earflap Hat (free pattern)
Misc. small amounts of Knit Picks Wool of the Andes
Addi Turbos – unknown size.
One last picture of Sunset Beach, North Shore, Oahu. For good measure.
My shop is open again (<<click here)!  Tomorrow, I will be adding a couple skeins of new handspun yarn, as well as new fiber dyed in new colors.  So exciting!  I can't wait to share it with you!
Did I tell you about our epic 2 month "vacation" to Illinois to be with family?  No.  Sorry.  In summary, it was just about every emotion you can think of, plus a couple extra that you didn't know existed…just for good measure.
Lots of treasured memories were made.  Time spent with family that we rarely get to see.  The boys got to see family members that they had only heard about, met new cousins that they had only seen pictures of and got to spend time with their grandparents and great-grandparents.
I am working my way slowly through the mess that I have in my email inbox (1158 new messages.  down from 1600 or so).  Being without internet for weeks at a time were quite the challenge.  I am also slowly easing my way back into blogging.  The blog was on my mind quite a bit while we were gone and I have so many new ideas.
So, let's start with one.  This is an off-shoot to a version that my dear friend Phoe does every week.  I have always loved it and wanted to try it.
::Listening to::
Toddler Tunes on Pandora Radio.  The boys love it.
::Reading::
The Yeast Connection and The Omnivore's Dilemma.  Over the past few months, I have been experiencing headaches after eating.  At times, it would be so bad that I needed to lie down.  Which isn't easy with two little boys.  With the help of my midwife, I have decided that it is either a wheat/gluten intolerance or a yeast sensitivity type of issue.  I have been doing pretty well for the past week or so, sticking to a mostly vegetarian diet that has minimal wheat products in it, and certainly nothing processed or pre-packaged.  Fingers crossed that we can figure it out for good.
::Watching::
We don't watch tv, so no cable or satellite here.  Where we are, we can't even get local channels.  So, when I feel the urge to watch tv, Hulu is my friend.  Last night I watched an episode of Days of Our Lives (!I know!) to get caught up for the next couple of months.
::Wishing::
For snow.  Seriously.  We have none.  In Alaska.  Bizarre.
This necklace is calling my name.
So is this one.
Oooh, shiny!  Phoe's work is phenomenal.
I adore this mug, but know that it will sadly get broken in this house of clumsy and boys.
For the house to stay nice and tidy beyond the hours of 8 pm – 6 am.
For more hours in the day (don't we all?).
For an extra dose of patience throughout the day.  Terrible twos?  Not here…the threes are turning out to be much more dramatic.  For both the three year old, and the almost-thirty-three year old.
::Learning::
It is all about food this week.  Change is hard, but when you don't feel good and you know it is related to the food you just ate, it makes change just a little bit easier.
::Missing::
This view…
We had a cabin in Wisconsin the week of Christmas.  This was the view out the picture window in the living room.  So quiet and peaceful.  And look at that snow!!
We are here in Juneau finally. And I finally realized that I could try to see if there was an unsecured wireless connection around here since the hotel doesn't offer one…only took me about 5 days to have that lightbulb go on over my head. Obviously, there is a connection. Thanks, Sandpiper Cafe.
I will catch up in the next couple of days, but I wanted to get my entry into my friend Phoe's kick-ass contest since it ends tomorrow. Or today depending on your time zone me thinks.
Phoe wants to see what inspires her readers. With pictures. Even better. Sorry to my friends that have slower connections. I like to take pictures. I have the attention span of a gnat in regards to most things, so trying to narrow down my list of inspirations and keep it current was tough. I thought of this contest on the drive all the way through Canada on the way to Alaska. Shoot, I even started making lists with categories and subcategories. At the risk of getting too deep (one subject on the original list was religion), I am going to keep it pretty light-hearted. Because something new and shiny might come along and I will be drawn to it like the magpie that I am and totally forget where I was at or where I was going with that thought.
Travel
I love to travel. Have passport and map and I am ready to go. I am constantly amazed by people that go back to the same vacation spot year after year. It is such a big world out there and if it is possible, I highly recommend that you get your butt out there and experience it. I have been fortunate that DH also loves to travel and we are stable enough to be able to do so. In the past 5 years we have crossed the US & Canada by car, visited St. Lucia, Thailand, Australia, Japan, Philippines, islands in the Pacific including: Guam, Saipan, Rota and Tinian. Granted, we lived on Guam and Saipan, but I still count them. We have an even longer list of places that we would like to go.
While zipping through Minnesota/N. Dakota and Canada, we captured these views.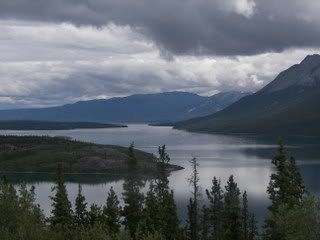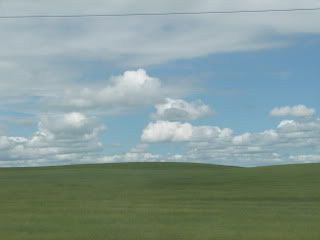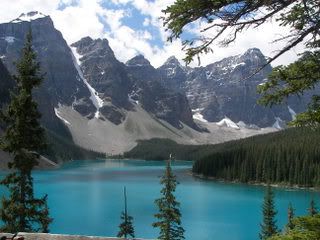 Creativity
I love the internets. I have found so much inspiration through blogs, groups and message boards. I have tried crafts that I never thought I would. I am constantly blown away by what people think of. Take my friend, Deece for example. She had an idea to make a soft book for babies & toddlers. She made this book for BTH and stitched it by hand…what a labor of love! BTH loves it and looked at it at least once a day while on our trip to Alaska. Oh yeah, it is in 3 different languages. Even more awesome!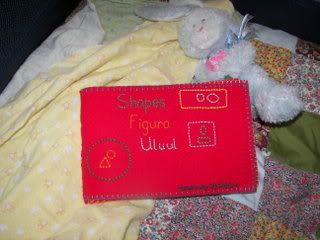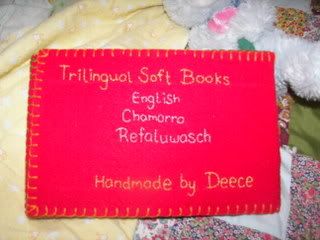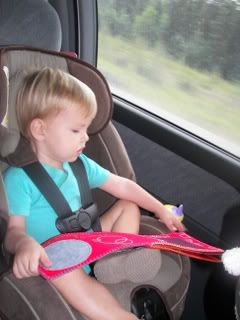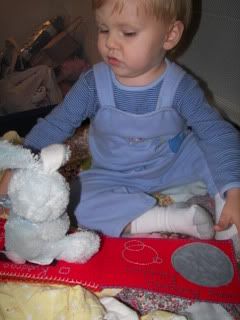 New Stuff
I try to be thrify and a great tree hugger convert. I really do. I love to recycle things for crafts and find new uses for things, but there is a little part of me that really loves new stuff. Like new pretty smelly stuff and new tasty stuff. I get inspired by new things, especially smells and tastes. While we were at Banff, we stopped at the Lush store so I could stock up. Bath bombs, solid shampoos and bubble bar slices hopped into my basket eagerly (Karma is the new favorite scent). Lush products are great because they don't test on animals, use natural ingredients and offer many vegan-friendly products. Plus the packaging is minimal. While in Galena, I found Dr. Bronner's Castile Soap. How in the world did I ever miss this stuff before? The lavender scent is fabulous. And it lasts forever. Certified Fair Trade and Organic? Yes, please.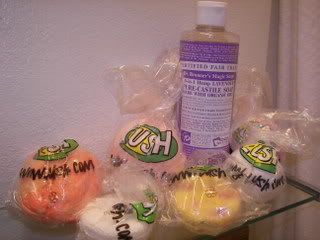 While we were at home, I found a french press for coffee at a discounted price. I had been reading rave reviews about these presses and was hoping that I would receive one as a present. Lucky me, I didn't have to wait. I never want to have regular drip coffee again. There is such a huge difference in taste for sure. Plus, no filters to buy or get rid of, so it kinda fits into the tree hugger idea. And while we were home, I saw Tiramisu ice cream by Haagen Dazs. I never got a chance to buy any, so today while at the store here in Juneau, I searched the ice cream cooler for some. No luck. But I did come up with Sticky Toffee Pudding and DH found Carmelized Pear and Toasted Pecan. Holy moley. Sticky Toffee Pudding has made me forget that Tiramisu is even out there. I can see how a person can eat the whole container in one sitting. But I don't need 1,000 extra calories even if I am eating for two (oh how I hate hate hate that old saying…you are never eating for two, just an excuse to over eat and not feel guilty).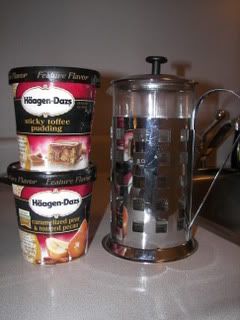 Barack Obama
Yeah, he inspires me. He inspires me to hope that things will be better, that change is worth believing in, that it is possible to engage young, disenfranchised voters and get them excited and hopeful, that there are politicians that believe that we can make big changes to an old idea. I am bummed that I can't put my Obama '08 sticker on my new van or a sign in the yard because of DH's job, but I can still exercise my right to vote in November and hope to inspire others to learn more about both candidates and the issues.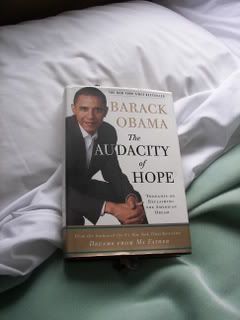 Family
I am so blessed to have a wonderful family. Even though they are flung all over the country, I still feel connected. Gosh, I do so love the internets. I am extraordinarily blessed to have a wonderful DH and an awesome BTH. Did I ever imagine that I would be this lucky? Not in a million. My family inspires me to do good things, set good examples, learn more and pass on the knowledge that I have. My family inspires me to be the best person that I can. I am human and fail miserably from time to time, but I think that I would get a passing grade in general.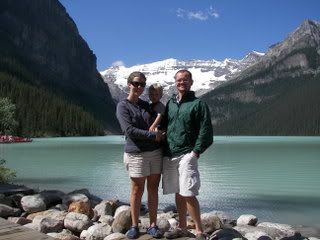 The tree hugger family
Lake Louise, Banff National Park, Alberta, Canada
July 2008
So, there you have it. Things that inspire me at the moment. Told in my rambling, sometimes nonsensical narrative that is totally discombobulated since it is beyond my bedtime. And because I am part magpie.
Until next time.
Peace.
We are now in Winnipeg, Canada…crazy to think that 19 days ago we left Saipan. We spent 17 days at home in Illinois. We had lots of loose ends to tie up and things to sort out. I will attempt to catch you up with pictures.
We left Saipan at the ass crack of early, just as the sun was starting to rise…
My Step-Mom had cupcakes waiting for us when we arrived. One for each holiday that we missed while we were away. I see a tiny hand getting ready to snag some frosting…just like his Mama.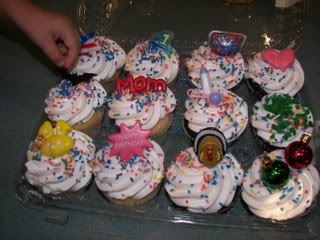 We walked to the 4th of July parade. I love small town parades. The fire trucks are my favorite.
We visited a local orchard and picked cherries.  At least something good came out of a wasted day of van shopping.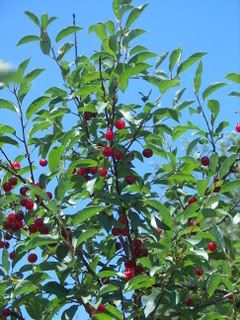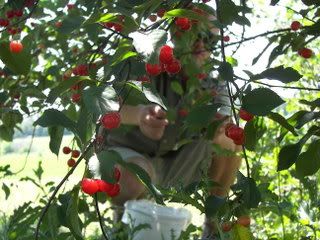 We spent a week in Galena, IL at one of the timeshare condo places that we have.  While there, we visited an alpaca farm.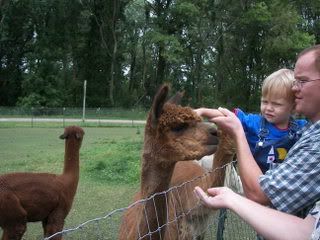 This alpaca thought that FIL was the bee's knees. I got another picture where poor FIL is practically pushing this alpaca away from him, but I will save that for another time.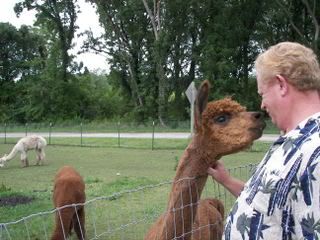 Lovely Galena.  I adore this town.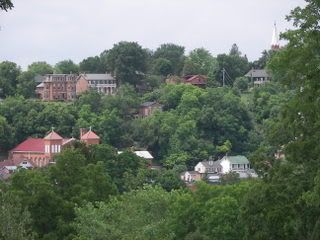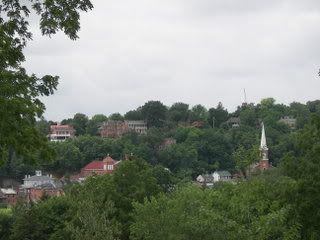 President Grant's house.  We got the nickel tour since they were closed on Mondays and Tuesdays.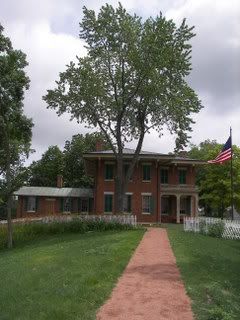 We took a walk and found BTH a walking stick.  The novelty wore off in about 30 seconds.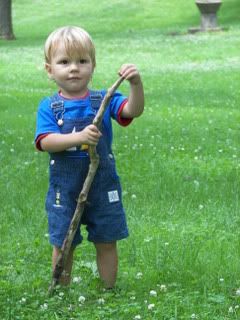 We ate fabulous popcorn from here, and BTH did his best Hollywood "It" Girl impression.  I recommend the Snickers popcorn & the peanut butter cup popcorn.  YUM!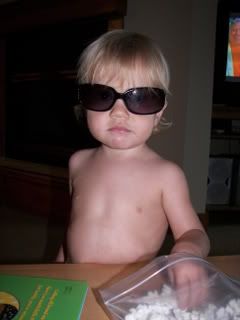 BTH got his first haircut from my Dad.  Dad used to be a barber…this was his first haircut that he has given in 19 years.  I am a sentimental sap and thought that it would be sweet if Grandpa gave him his first real haircut.  The key to a successful first haircut…let the baby eat whatever he wants.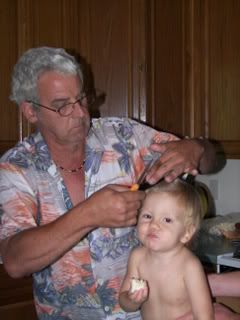 BTH & I pulled weeds and planted flowers in my Mom's flower beds.  It was completely weird and considerably difficult for me.  But therapeutic in a way as well.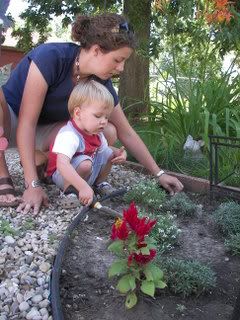 BTH got to meet and feed Lucy the chicken at Grandmama's house.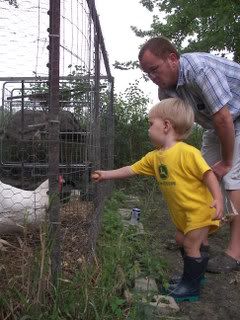 And run around in his best farm boy get-up.  The grandmas bought him the boots and I swear, the kid didn't want to take them off.  They are kind of cute.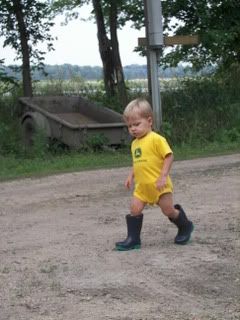 We went to the local children's farm and fed Freckles the Llama dandelions.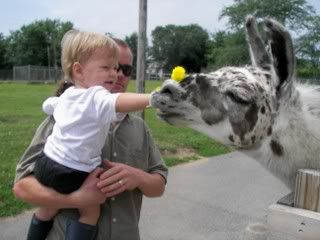 And then proceeded to try to milk Milly, the old Muller-Pinehurst cow.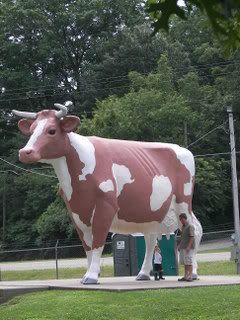 BTH says, "Hmm…wonder what this duck is all about?"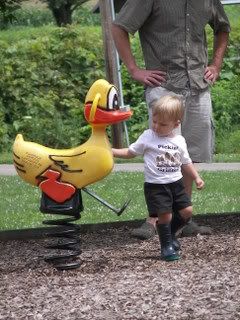 Papa says, "I'll show you."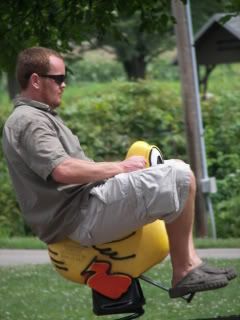 FIL thought that maybe BTH would like a short ride around the yard on the 4-wheeler…BTH thought otherwise.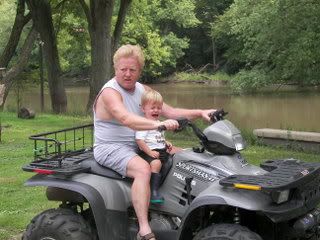 BTH & Papa hanging out on the boat.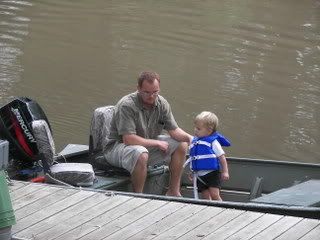 On the road again!  Our new van is getting a workout driving from Illinois to Juneau, AK through Canada.  Good thing DH has a trusy co-pilot to help him navagate.  She works cheaply too!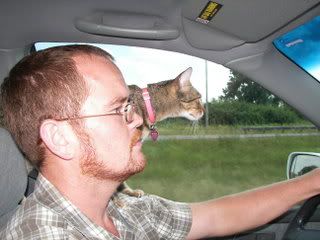 I will try to update as I can…and as free WiFi is available.  In the meantime, check out my friend Phoe's rocking contest.  I am going to have to dig deep for this one.
Peace.
I haven't been very inspired to blog lately. Oh, you noticed? Sorry. I don't know what the deal is with the funk that I am in lately. Actually, that isn't true. I have some ideas.
Might it be that I am almost counting down the minutes until we get to leave this place? Especially now that they have announced that the daily power outages shall resume? Power went out yesterday from 1:45 PM to 4:15 PM, then again at 10:25 PM until almost midnight. *le sigh* I am so over it already. I went from counting down the days until we actually leave ( 58 ), to counting down the days until we get packed out and move to the hotel ( 48 ) because it sounds better and we will have power 24-7, not to mention air conditioning.
Might it be that with this moving business, there are tons of loose ends to tie up?
Health Certificates for the beasts(1 dog, 2 cats) to fly
Schedule the beasts for their fun fun plane trip to Chicago (this one will make the checkbook hurt)
Final garage sale planning to unload some crap things that we won't be needing in Juneau.
Scheduling the movers to come do a walk through, then scheduling the pack-out
Coordinating the final cleaning of the house before we turn the keys over to the land lord
Getting in touch with the landlord. Funny how important things originating from them need to be addressed post haste, but when we try to make contact, we almost have to send out an APB.
Getting medical records for BTH & I.
Getting BTH's next set of shots before we go.
Coordinating movers in IL to pack up Mom's stuff.
My head is hurting thinking about it all, so I will stop here.
Or, might it be this upcoming holiday, Mother's Day? Yes, I do believe that is a big issue with me lately. Who am I kidding? It has been a big issue since Sept 14, 2007. *double le sigh*
Let's talk about better things, shall we? How about my guys? Okay!
Last week we went to Tinian for the San Jose Festival. Actually we went so DH could do some work over there and I thought it would be fun to tag along. Plus, I am not one to turn down the offer of a hotel stay with aircon (see a trend here?). We zipped over there on the ultra-fast-like-lightning USCG Cutter, Sequoia.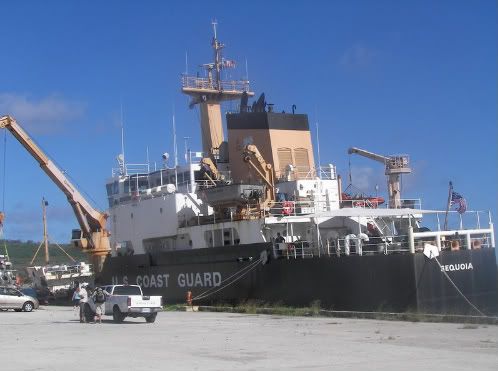 Now, that isn't true, either. Oh, we did catch a ride on the Sequoia, true enough. But the thing was powered by turtles I think. What is usually a 1 hour trip on the ferry was a 4 hour trip on the Sequoia. Lots of wandering and meandering.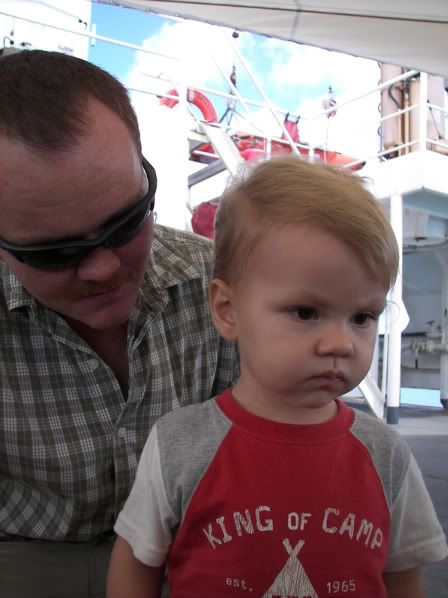 BTH & DH on the deck of the Sequoia looking at a crate of fighting cocks going to Tinian. Cock fighting is allowed here and people seem to enjoy it. Why? I don't know. It makes my stomach turn.
Remember that I told you about DH getting all into bicycling again? The mania continues. He is out the door at ugly thirty on Sunday mornings to go meet the bicycling group for an intense ride. His thoughts are consumed with pedals, clips, shoes, jerseys, new road bikes. Dura Ace this, Shimano that, Pearl Izumi this, the obsession marches on. c'est la vie I suppose. I am glad that he has a rekindled an old hobby.
He was in a bike race a few weeks ago. He was on track to do pretty well and got well over half way done when he got a flat tire. He was quite disappointed. I was proud of him for just wanting to do it.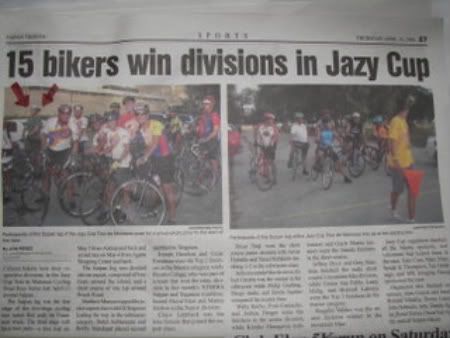 I saw a short blurb about it in the paper recently and thought, "Whoa, that's DH!" He didn't think it was as cool as I did.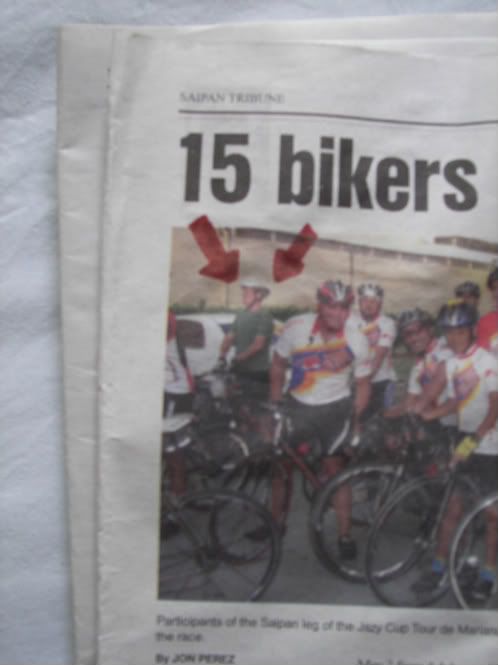 And because the world needs more BTH love, here you go…BTH trying to figure out what to do with my Birks.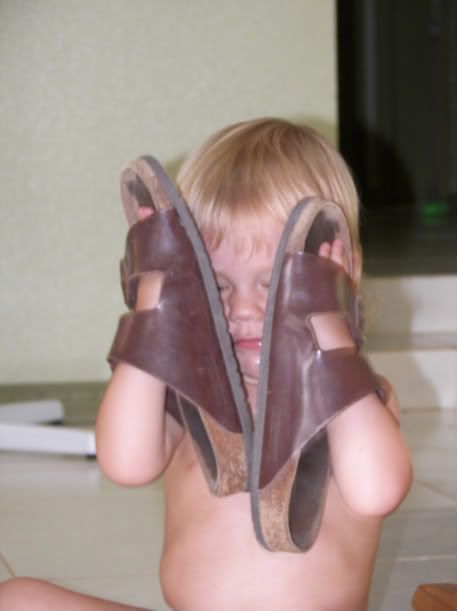 And then him yelling at me with his new favorite phrase "Wait, wait, wait!" because he wasn't ready for his close up, Mr. De Mille.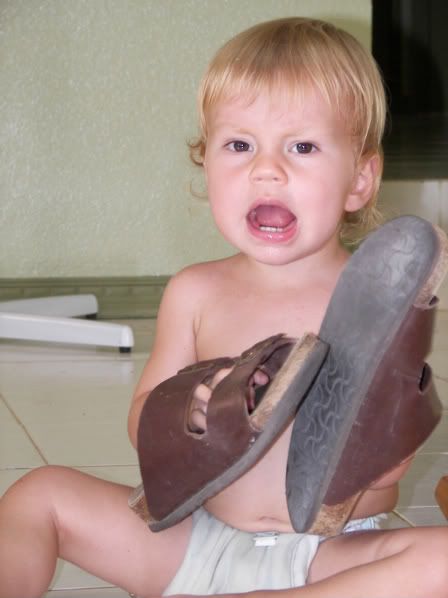 My guys, I do so love them.
Please keep your fingers crossed for DH today. He is taking the service-wide exam to advance to Chief. I think that he is prepared, we have been doing flash cards and practice tests like crazy this week. We won't know his individual results until July-ish, then they factor in all kinds of other things and rank everyone…we won't know where he stands on "the list" until early fall. How he does today could mean that we stay in Juneau all 4 years or transfer sooner.
Peace.