You are currently browsing the category archive for the 'vote' category.
Three years ago, we moved from Houma, Louisiana to Guam.  We left in May and Hurricane Katrina hit in August followed by Hurricane Rita.  We were so glad that we weren't there, but worried about our friends that were still there.  DH was deployed back to New Orleans during the lull between the storms and was there for a month helping out with clean up efforts.
Now there is a storm developing that could be even more menacing, Hurricane Gustav.  I just checked the newspaper from our old town, Houma Today, and there is a ton of information available.  My heart sank when I read that Terrebonne Parish (our old Parish) is expecting a direct hit and that downtown Houma could see as much as 9 feet of water according to LSU storm models.  If this does happen, this will be devastating.
I just sent a quick email to a few of my friends down there to check if they are staying put or evacuating.  There are other friends that I worry about that we have lost contact information for.  I hope that they stay safe.
*****
I want to comment about the recent choice of Gov. Palin as the Republican running mate, but right now my thoughts have been consumed with the storm, so here is a brief line of thinking.
I received an interesting email from MoveOn.org yesterday highlighting some of the falsehoods that are being touted as "achievements" and "qualifications.  Basically I will say this:  I am happy for my new Governor, this is wonderful for her.  I also feel sorry for her as she is thrust into the national, and even worldwide spotlight.  I am not sure that she is ready.  I also feel sorry for her because I feel that she is a "token" choice.  A pathetic attempt to attract disenfranchised Hillary supporters.  I admire her as a woman and how she has been able to rise from the PTA to Mayor to Governor to Vice Presidential nominee.  That is a tremendous accomplishment.  But I think that Biden will prove to be victorious in the VP debates and that this was an overall poor choice for Sen. McCain.  A gamble that he will ultimately lose.  Go Obama/Biden!
Peace.
Good: Both Mar and Heather gave me the Kreativ Blogger award. Thanks so much, ladies! You both made me smile. I am honored to think that others see me as creative.
The rules:
1. The winner may put the logo on her blog.
2. Put a link to the person you got the award from.
3. Nominate 5 blogs
4. Put links to the blogs.
5. Leave a message for your nominees.
I haven't had much of a chance to read blogs lately, I have tons of unread posts in my reader. Our internet connection is iffy at times…we were without internet all weekend and I hate going to the lobby to use the computer there.
So, that said, I nominate these bloggers…
Deece, Jill, Jackie, Tamie, Phoe
Some knit, some stamp, they are all immensely creative in their own their own ways.
Bad: Is it wrong that the way the award is spelled really annoys me?
****************
Good: Our realtor has a boat and took us out whale watching one day last week. He's nice like that.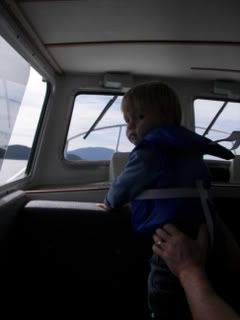 Good: We got to see lots of whales. You can only go so close to them, they are protected. One snuck up on us on the side and came up and made us all jump, he was pretty close. We got out of there shortly after that. We also got to see lots of bald eagles…one even swooped down near the boat to grab something out of the water. Magnificent creatures. We also saw sea lions lounging on a buoy.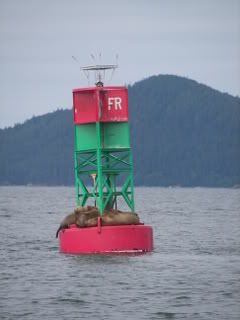 Bad: This is the only shot I got of what was a whale…my digital camera battery died almost instantly. DH brought along his big film camera, but only brought one lens. We are smart like that.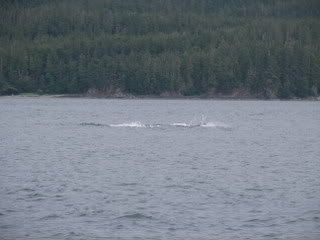 ************
Good: We went to the DMV to find out what we need to do to get an Alaskan license (and so I can register to vote in November!). We got lots of information and all of the forms that we need to fill out once we get a home address.
Bad: Alaskan law states that if you don't have a current, valid Alaskan license, then you have to take and pass the written test. Regardless if you were licensed in another state or are in the military. I am already nervous even though I know I will do fine. I will be reading up to make sure of that though.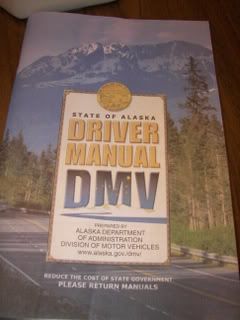 Good: At least it will make me a better driver and more aware of the tiny details that I may have forgotten.
**************
Good: I started a new baby sweater for a couple that we know that are expecting a baby boy soon. I love knitting baby sweaters and think that all babies should have at least one hand knit baby sweater. I am using Knit Picks Comfy in Planetarium and this fabulous free pattern. I love this pattern.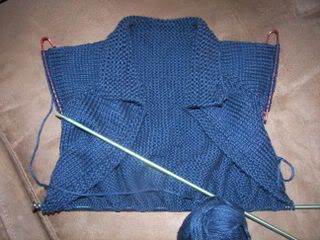 Bad: While perusing the Knit Picks website to get the above link for the yarn, I see that they now have Harmony Straights. Oh my! So pretty. They will go on the holiday wishlist this year for sure.
**************
Good: I am finally on the decrease section of my Clapotis. It has been put on the back burner this week to work on the baby cardi, but I plan on finishing it up this weekend. I am using Noro Kureyon #150 and I adore this yarn and this colorway. My picture isn't impressive, but rest assured that it is impressive in person.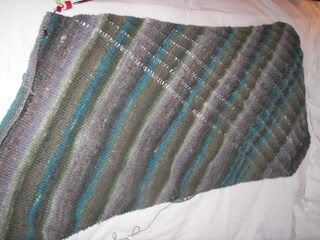 Bad: While I love this design and the look, following the pattern freaks me out. Especially now in the decrease section where I am dropping 2 sets of stitches. I get nervous that I will screw it up again and end up with a hideous mess. Even more so considering this is intended as a holiday present for someone.
************
Good: We have rented out a vacation house for the next month until we get our house. I will be glad to get out of hotel living and be able to stretch our legs. My new cyclamen will be happy to have more windows to try to catch a few rays in. I adore cyclamen and african violets for indoor flowering plants.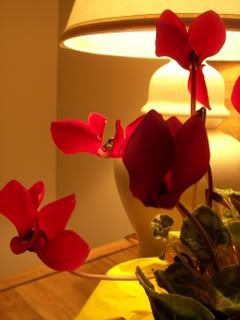 Bad: Our household goods from Saipan aren't here yet, and the vacation house doesn't have a crib. We have been going over the pros and cons of moving BTH into a toddler bed when we go there later this month. I think that we are going to do it. He has gone quite a while without "his" crib now, sleeping in borrowed cribs and portable cribs/playpens so I don't think that there will be an attachment issue.
*****************
Drumroll, please………..
Good: We put in an offer on a house and it was accepted! Yay! I am hesitant to put all of the details on here just in case…if you want to see it and the virtual tour, just leave me a comment and I will happily send the link to you. We are already thinking of ideas for new flooring, paint and window coverings.
Bad: I am a bit stressed about it because it is a huge mortgage and responsibility. This house costs double what a very nice house back home costs. And it is our first home purchase. We can totally afford it (thanks, USCG) and still have me stay home full time with the kids, but still…I am a worrier by nature.
******************
And on a final totally positive note:
Good: There is a birth center here in Juneau! I am so happy! And they do water births! We had a consultation and a tour last week and we had our first appointment with our midwife this week. I love it and am so looking forward to an awesome birth experience at the birth center. They even offer free classes, prenatal yoga and belly dancing for pregnant women(!). I am all over the prenatal yoga but the belly dancing will take some convincing me thinks.
Peace.
We are here in Juneau finally. And I finally realized that I could try to see if there was an unsecured wireless connection around here since the hotel doesn't offer one…only took me about 5 days to have that lightbulb go on over my head. Obviously, there is a connection. Thanks, Sandpiper Cafe.
I will catch up in the next couple of days, but I wanted to get my entry into my friend Phoe's kick-ass contest since it ends tomorrow. Or today depending on your time zone me thinks.
Phoe wants to see what inspires her readers. With pictures. Even better. Sorry to my friends that have slower connections. I like to take pictures. I have the attention span of a gnat in regards to most things, so trying to narrow down my list of inspirations and keep it current was tough. I thought of this contest on the drive all the way through Canada on the way to Alaska. Shoot, I even started making lists with categories and subcategories. At the risk of getting too deep (one subject on the original list was religion), I am going to keep it pretty light-hearted. Because something new and shiny might come along and I will be drawn to it like the magpie that I am and totally forget where I was at or where I was going with that thought.
Travel
I love to travel. Have passport and map and I am ready to go. I am constantly amazed by people that go back to the same vacation spot year after year. It is such a big world out there and if it is possible, I highly recommend that you get your butt out there and experience it. I have been fortunate that DH also loves to travel and we are stable enough to be able to do so. In the past 5 years we have crossed the US & Canada by car, visited St. Lucia, Thailand, Australia, Japan, Philippines, islands in the Pacific including: Guam, Saipan, Rota and Tinian. Granted, we lived on Guam and Saipan, but I still count them. We have an even longer list of places that we would like to go.
While zipping through Minnesota/N. Dakota and Canada, we captured these views.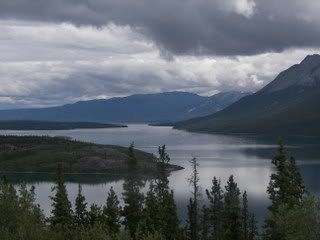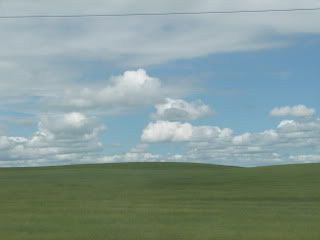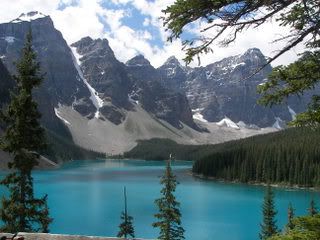 Creativity
I love the internets. I have found so much inspiration through blogs, groups and message boards. I have tried crafts that I never thought I would. I am constantly blown away by what people think of. Take my friend, Deece for example. She had an idea to make a soft book for babies & toddlers. She made this book for BTH and stitched it by hand…what a labor of love! BTH loves it and looked at it at least once a day while on our trip to Alaska. Oh yeah, it is in 3 different languages. Even more awesome!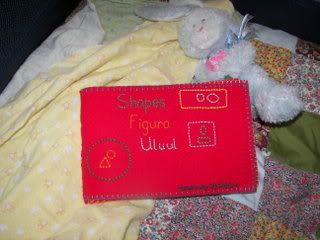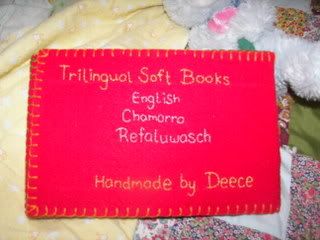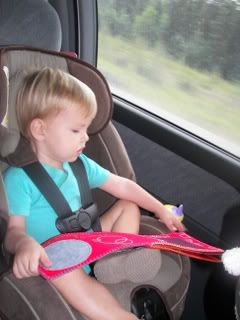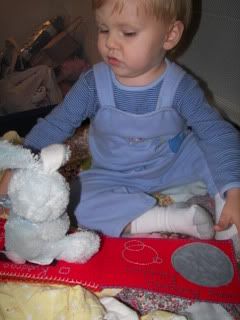 New Stuff
I try to be thrify and a great tree hugger convert. I really do. I love to recycle things for crafts and find new uses for things, but there is a little part of me that really loves new stuff. Like new pretty smelly stuff and new tasty stuff. I get inspired by new things, especially smells and tastes. While we were at Banff, we stopped at the Lush store so I could stock up. Bath bombs, solid shampoos and bubble bar slices hopped into my basket eagerly (Karma is the new favorite scent). Lush products are great because they don't test on animals, use natural ingredients and offer many vegan-friendly products. Plus the packaging is minimal. While in Galena, I found Dr. Bronner's Castile Soap. How in the world did I ever miss this stuff before? The lavender scent is fabulous. And it lasts forever. Certified Fair Trade and Organic? Yes, please.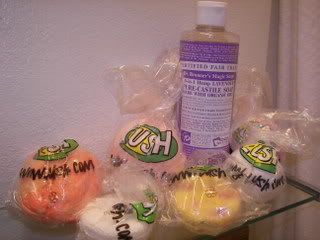 While we were at home, I found a french press for coffee at a discounted price. I had been reading rave reviews about these presses and was hoping that I would receive one as a present. Lucky me, I didn't have to wait. I never want to have regular drip coffee again. There is such a huge difference in taste for sure. Plus, no filters to buy or get rid of, so it kinda fits into the tree hugger idea. And while we were home, I saw Tiramisu ice cream by Haagen Dazs. I never got a chance to buy any, so today while at the store here in Juneau, I searched the ice cream cooler for some. No luck. But I did come up with Sticky Toffee Pudding and DH found Carmelized Pear and Toasted Pecan. Holy moley. Sticky Toffee Pudding has made me forget that Tiramisu is even out there. I can see how a person can eat the whole container in one sitting. But I don't need 1,000 extra calories even if I am eating for two (oh how I hate hate hate that old saying…you are never eating for two, just an excuse to over eat and not feel guilty).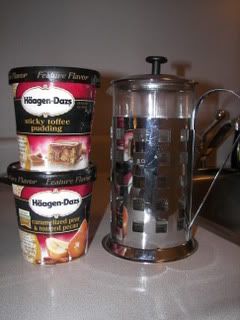 Barack Obama
Yeah, he inspires me. He inspires me to hope that things will be better, that change is worth believing in, that it is possible to engage young, disenfranchised voters and get them excited and hopeful, that there are politicians that believe that we can make big changes to an old idea. I am bummed that I can't put my Obama '08 sticker on my new van or a sign in the yard because of DH's job, but I can still exercise my right to vote in November and hope to inspire others to learn more about both candidates and the issues.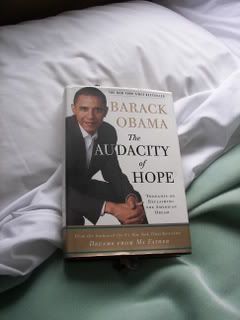 Family
I am so blessed to have a wonderful family. Even though they are flung all over the country, I still feel connected. Gosh, I do so love the internets. I am extraordinarily blessed to have a wonderful DH and an awesome BTH. Did I ever imagine that I would be this lucky? Not in a million. My family inspires me to do good things, set good examples, learn more and pass on the knowledge that I have. My family inspires me to be the best person that I can. I am human and fail miserably from time to time, but I think that I would get a passing grade in general.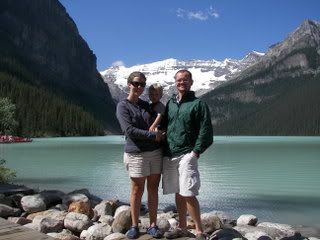 The tree hugger family
Lake Louise, Banff National Park, Alberta, Canada
July 2008
So, there you have it. Things that inspire me at the moment. Told in my rambling, sometimes nonsensical narrative that is totally discombobulated since it is beyond my bedtime. And because I am part magpie.
Until next time.
Peace.
And what are you looking for? Don't get me wrong, I love having a bunch of visitors to my little ole blog. But I can't imagine that my little spot on these internets is that interesting to 177 people.
Did I tell you before that I lurve WordPress? I do. I love the layout, the simplicity of it (once you get used to it), and the automatic stats. I like to see what people are searching for that leads them to my blog, I like to see what people click on, I like to see where people are coming from. But I really like to see the numbers. I usually get between 50-75 hits per day. For some people, that is chicken scratch. But for little old me, my heart about bursts with happiness when I see my stats. Especially today's…177 visits to A Tree Hugger's Wife.
Thank you, every single one of you. You just made my 3 hour power outage this morning seem not so bad. You made my day. I shall reward you with pictures of yarn and knitting content, ha ha.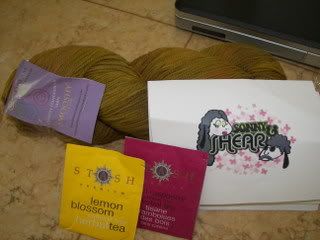 You thought I was kidding, right? Nope. Yesterday I got my first ever order from Sonny & Shear. And it won't be the last. They had a promo a couple weeks ago for 20% off I believe…they used the clever code "GeorgeGaveMeYarnMoney" (nod to stimulus checks). Now, our stimulus check was unfortunately, not what we were expecting because of the way we fall in the tax bracket scheme or something, but it was still free money. Dutifully we put most of it to paying off debt, but I couldn't help myself from spending $20.
A skien of Dream In Color Smooshy in the "Strange Harvest" colorway, and they included a hand written note and a couple of teas…I am glad that one is lemon, it is my favorite.
The yarn will be knit into gift socks. Now I just have to decide what pattern to use. What do you think..
or
I am leaning more toward Hedgerow, but the Hederas are gorgeous (scroll down that page to see more pics). I need to decide soon.
Oh, I also got another purchase in the mail yesterday (Debi, you will love this!):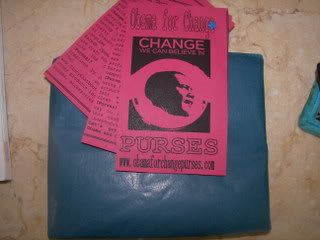 My "Obama for Change" coin purse. I love it! Here is the front: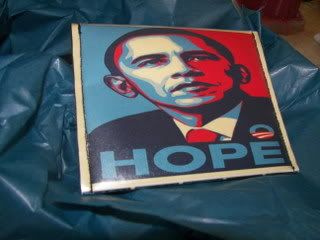 And here is the back: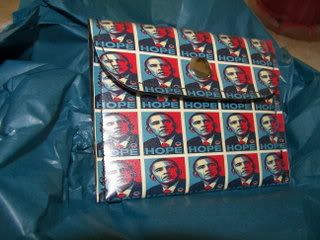 I got it from this etsy seller:  FancyThatBoutique
Quite appropriate since this week is a big week for our man!
Peace.
I have been cooking today! That is unusual for our house, DH is the chef in the family, I am pretty much the baker. But I haven't felt like baking lately (until today) because of the insane heat. As I was cooking today, I had some random food thoughts run through my head:
Cleaning canned salmon is disgusting. I made salmon patties for dinner and was thoroughly grossed out by the time I got it all cleaned. DH just kind of mashes everything together (that's why I like to make them), so when he makes them, you get extra crunchy bits from the tiny bones. I do it like Granny and pick it all apart.
I can't wait until we go home…I am seriously craving blue cheese stuffed olives. Mmmm. I could sit down and eat a bowl full. Top of my grocery list will be a jar of olives and a slab of blue cheese. All you have to do is pick out the pimento with a toothpick and jam some blue cheese inside. If there are any that aren't consumed immediately, put them in the refrigerator and they get even better.
I baked tonight! Organic blueberry muffins. I used Paula Deen's recipe for blackberry muffins, but since we don't have blackberries, I subbed organic frozen blueberries. Oh, and I added some of the drained blueberry juice to the batter because it was crazy thick. They aren't pretty, but they are freakishly tasty. I think that the sprinkles of raw sugar on the top help!

My pal, Deece, gave me a bag of truffles for Mother's Day. As I was slicing one in half the other day (what! I know…I haven't scarfed them all down yet?!?!), I paused for a second and rotated the truffle a bit so that it was the first letter of our last name. Cute! Or maybe I am just a dork. Don't.answer.that.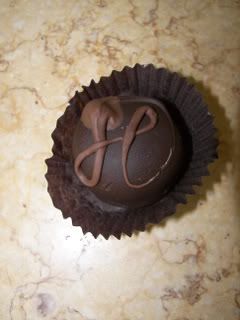 So you can see that it truly is double chocolate…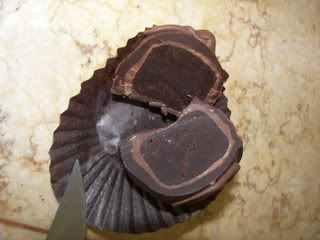 I was playing around with BTH today, just snapping some random photos of us. I think that the caption for this one should be:
"Oh, I am going to have a brother or a sister? That's awesome, that rocks! I am so happy. Please don't notice the cracker crumb on my face, notice my cuteness instead."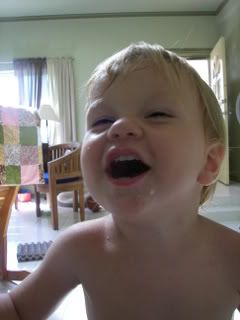 Then the caption for this one would be:
"Remember how excited I was, how I said that it "rocked" and that it was "awesome"? Yeah, I lied. 16 months old and I have this faking out the parents thing in the bag. This is how I really feel. You probably won't even notice my middle finger as I slyly put it up."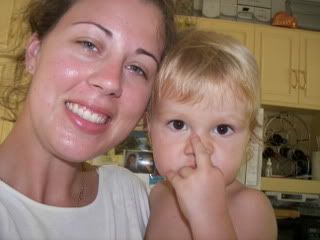 Ya'll, I have been beyond tired lately. It is getting absolutely pathetic. I am too tired to knit at night. How pathetic is that? I did get to the heel flap of my monkeys and am plugging away at them…I think that they are going to be ginormous though, if the heel flap is any indication. I have been reading quite a bit. In the last two weeks, I have re-read books 1-3 of the Harry Potter series. I got a bunch for Christmas from my Dad & Step-Mom (hardcover, first edition natch) and am working my way through them. The plan is to have them all read by the time we are packed up. That includes reading book 7 for the first time. I can't believe that I haven't heard any spoilers about book 7 yet beyond "somebody dies". If you have an inkling to spoil it for me now, don't do it…I will hate you forever.
Oh yeah, my dear Barack is on a total roll…we should be pretty much done by May 31. I found this today via Ravelry and thought it was great. I will post more later this week…I found a bunch.