You are currently browsing the tag archive for the 'baby' tag.
I have been cooking today! That is unusual for our house, DH is the chef in the family, I am pretty much the baker. But I haven't felt like baking lately (until today) because of the insane heat. As I was cooking today, I had some random food thoughts run through my head:
Cleaning canned salmon is disgusting. I made salmon patties for dinner and was thoroughly grossed out by the time I got it all cleaned. DH just kind of mashes everything together (that's why I like to make them), so when he makes them, you get extra crunchy bits from the tiny bones. I do it like Granny and pick it all apart.
I can't wait until we go home…I am seriously craving blue cheese stuffed olives. Mmmm. I could sit down and eat a bowl full. Top of my grocery list will be a jar of olives and a slab of blue cheese. All you have to do is pick out the pimento with a toothpick and jam some blue cheese inside. If there are any that aren't consumed immediately, put them in the refrigerator and they get even better.
I baked tonight! Organic blueberry muffins. I used Paula Deen's recipe for blackberry muffins, but since we don't have blackberries, I subbed organic frozen blueberries. Oh, and I added some of the drained blueberry juice to the batter because it was crazy thick. They aren't pretty, but they are freakishly tasty. I think that the sprinkles of raw sugar on the top help!

My pal, Deece, gave me a bag of truffles for Mother's Day. As I was slicing one in half the other day (what! I know…I haven't scarfed them all down yet?!?!), I paused for a second and rotated the truffle a bit so that it was the first letter of our last name. Cute! Or maybe I am just a dork. Don't.answer.that.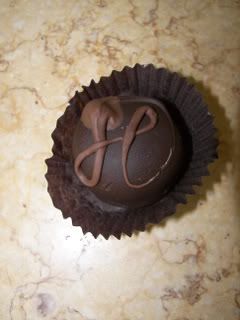 So you can see that it truly is double chocolate…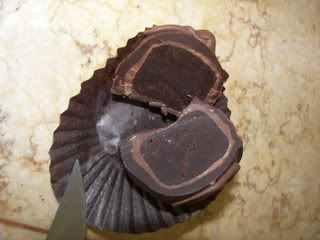 I was playing around with BTH today, just snapping some random photos of us. I think that the caption for this one should be:
"Oh, I am going to have a brother or a sister? That's awesome, that rocks! I am so happy. Please don't notice the cracker crumb on my face, notice my cuteness instead."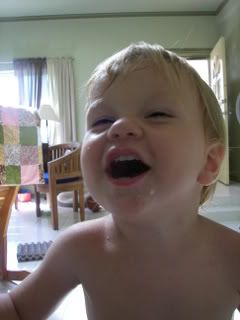 Then the caption for this one would be:
"Remember how excited I was, how I said that it "rocked" and that it was "awesome"? Yeah, I lied. 16 months old and I have this faking out the parents thing in the bag. This is how I really feel. You probably won't even notice my middle finger as I slyly put it up."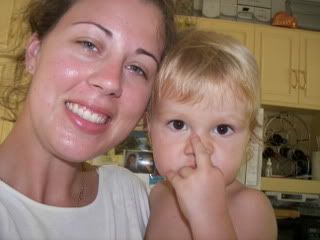 Ya'll, I have been beyond tired lately. It is getting absolutely pathetic. I am too tired to knit at night. How pathetic is that? I did get to the heel flap of my monkeys and am plugging away at them…I think that they are going to be ginormous though, if the heel flap is any indication. I have been reading quite a bit. In the last two weeks, I have re-read books 1-3 of the Harry Potter series. I got a bunch for Christmas from my Dad & Step-Mom (hardcover, first edition natch) and am working my way through them. The plan is to have them all read by the time we are packed up. That includes reading book 7 for the first time. I can't believe that I haven't heard any spoilers about book 7 yet beyond "somebody dies". If you have an inkling to spoil it for me now, don't do it…I will hate you forever.
Oh yeah, my dear Barack is on a total roll…we should be pretty much done by May 31. I found this today via Ravelry and thought it was great. I will post more later this week…I found a bunch.
I know, my last post was a huge drag. Sorry about that. I just have to put the absurdity (is that a word?) of the system out there every now and again. I will try to not bitch and moan about this place any more. Let's think of happier thoughts, okay?
Happy thought #1
Swaps!
I joined a couple of swaps on Ravelry lately and I am having the best time. It would only be better if I had an actual yarn store that I could go to and buy yarn, for now the internets will have to make do. There are two yarn shops in Juneau, that is a happy thought for sure.
This is a picture of one of the swaps that I sent: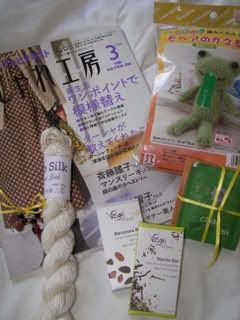 Silk yarn, assorted teas, stitch markers made by moi, crochet frog kit from Japan (because I realized that I can't read Japanese), a Japanese craft magazine, a couple of bars of gourmet chocolates. My partner is in California and she can read & write Japanese. Yay, her! She hasn't received it yet, should be there in a couple of days.
Today I got my swap package in the mail…all the way from Canada, eh.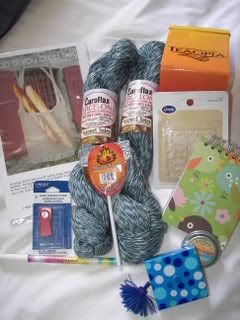 2 skiens of Euroflax wet spun Linen, a knitted shopping bag pattern, a kick ass tape measure (little blue box at bottom), a tin of lip balm, a note pad of recycled paper, a pen from the yarn store, hair bands that function as stitch markers, point protectors for my needles, a maple sucker shaped like a maple leaf and a bag of sweet lemon drop black tea (smells absolutely divine). Spoiled much? I love love love everything! And she really kept in mind the fact that I am a tree hugger, gotta love that!
Happy thought #2
Sock knitting! I started a new pair of socks yesterday. They are Monkeys from the famous Cookie A. I am using yarn that is a dream to work with according to my fingers…Blue Moon Fiber Arts "Socks That Rock" mediumweight. I lurve this stuff. The color is sherbet and I got it from my pal, Phoe. She is a doll.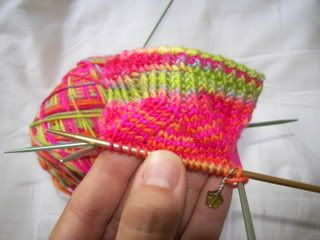 I love how they are pink on one side and green on the other. Too cool!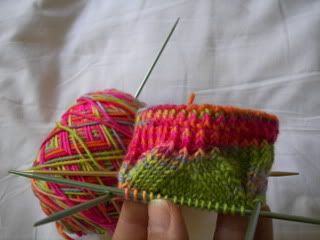 I have done one repeat of the lace pattern. And…this is a big and…I am following the lace chart pattern instead of the written out pattern. Always trying to broaden my horizons, that's me.
Happy thought #3
A new Clap! I mentioned that I started a new Clapotis…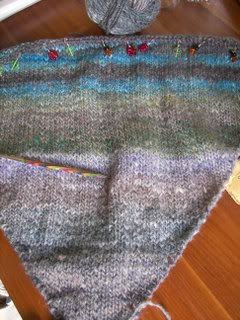 Isn't she gorgeous? Noro Kureyon #150…I adore the way that the colors are coming out. I am on my last little bit before I start the next section, the dropping stitches section!!! I am on my second ball of the Noro. I am having a hard time switching between my new Clap and the Monkey socks. I know, poor me.
Happy thought #4
Babies!
Found out last friday that our family is growing! The new BTH is expected to arrive January 6, 2009…just in time for his/her brother BTH's second birthday. Now, that is exciting! If it is a girl, I can say BTH & STH and make it brother tree hugger & sister tree hugger. Tree hugger babies, tres cute!
Peace.
We just got back from a brief stay in Tinian (the island directly south of Saipan). By brief, I mean fly over there on Wednesday, stay the night and bring the ferry back on Thursday.
I have so many blog posts in my head, I just have to take the time to pinch them out of my brain onto this little computer. And add pictures. Because a blog post is not much fun without pictures.
So, on with the pictures!
This was our plane. I think our car is bigger. And we drive a Honda Civic.
Our fab pilot. He was fab because he was personable and we didn't die. That's a passenger, not the co-pilot on the right.
Me, contemplating my life right before take-off. Conversely, known as the time right before I piss myself. Cause I hate flying.
BTH had no issues though with the 10 minute flight. He thought it was a grand time to take a nap.
I finally got a knitting needle roll done for another Raveler. This one is overdue, thankfully she is a nice person. I am tucking in a few extra goodies to help sweeten the package.
Open
Closed
Well, that is my 5 minutes. I will try to catch up some more tomorrow!
Peace.