You are currently browsing the tag archive for the 'food' tag.
I know, Solstice was a few weeks ago.  I just been so busy, uh, spinning, that I haven't had a chance to share my pictures.  We were so lucky to be blessed with a gorgeous sunny day.  What better way to celebrate the Solstice than by having an impromptu picnic!
The nibbles:
Top plate clockwise:  pecan halves, apricot slices, strawberries, blueberries
Bottom plate clockwise:  sugar snap peas, cherry tomatoes, feta cheese, cheese topped bagel
Getting in on the action:
Big Brother:
Little Brother:
Little Brother enjoying an apricot slice (with intense supervision):
We will have to come up with something pretty awesome for the winter Solstice to top this experience.
Peace.
I have been cooking today! That is unusual for our house, DH is the chef in the family, I am pretty much the baker. But I haven't felt like baking lately (until today) because of the insane heat. As I was cooking today, I had some random food thoughts run through my head:
Cleaning canned salmon is disgusting. I made salmon patties for dinner and was thoroughly grossed out by the time I got it all cleaned. DH just kind of mashes everything together (that's why I like to make them), so when he makes them, you get extra crunchy bits from the tiny bones. I do it like Granny and pick it all apart.
I can't wait until we go home…I am seriously craving blue cheese stuffed olives. Mmmm. I could sit down and eat a bowl full. Top of my grocery list will be a jar of olives and a slab of blue cheese. All you have to do is pick out the pimento with a toothpick and jam some blue cheese inside. If there are any that aren't consumed immediately, put them in the refrigerator and they get even better.
I baked tonight! Organic blueberry muffins. I used Paula Deen's recipe for blackberry muffins, but since we don't have blackberries, I subbed organic frozen blueberries. Oh, and I added some of the drained blueberry juice to the batter because it was crazy thick. They aren't pretty, but they are freakishly tasty. I think that the sprinkles of raw sugar on the top help!

My pal, Deece, gave me a bag of truffles for Mother's Day. As I was slicing one in half the other day (what! I know…I haven't scarfed them all down yet?!?!), I paused for a second and rotated the truffle a bit so that it was the first letter of our last name. Cute! Or maybe I am just a dork. Don't.answer.that.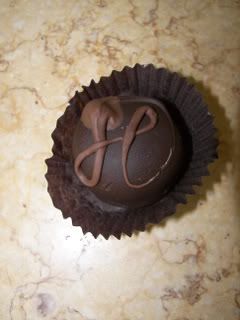 So you can see that it truly is double chocolate…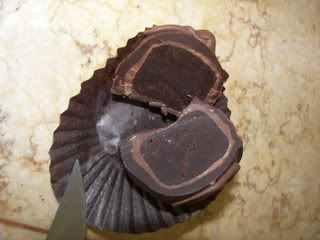 I was playing around with BTH today, just snapping some random photos of us. I think that the caption for this one should be:
"Oh, I am going to have a brother or a sister? That's awesome, that rocks! I am so happy. Please don't notice the cracker crumb on my face, notice my cuteness instead."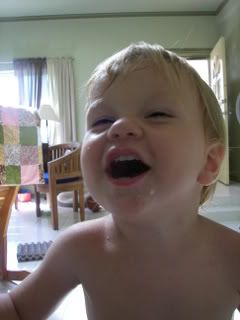 Then the caption for this one would be:
"Remember how excited I was, how I said that it "rocked" and that it was "awesome"? Yeah, I lied. 16 months old and I have this faking out the parents thing in the bag. This is how I really feel. You probably won't even notice my middle finger as I slyly put it up."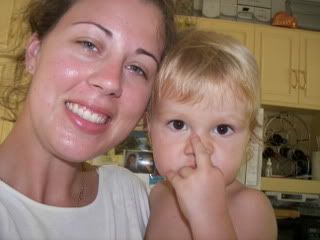 Ya'll, I have been beyond tired lately. It is getting absolutely pathetic. I am too tired to knit at night. How pathetic is that? I did get to the heel flap of my monkeys and am plugging away at them…I think that they are going to be ginormous though, if the heel flap is any indication. I have been reading quite a bit. In the last two weeks, I have re-read books 1-3 of the Harry Potter series. I got a bunch for Christmas from my Dad & Step-Mom (hardcover, first edition natch) and am working my way through them. The plan is to have them all read by the time we are packed up. That includes reading book 7 for the first time. I can't believe that I haven't heard any spoilers about book 7 yet beyond "somebody dies". If you have an inkling to spoil it for me now, don't do it…I will hate you forever.
Oh yeah, my dear Barack is on a total roll…we should be pretty much done by May 31. I found this today via Ravelry and thought it was great. I will post more later this week…I found a bunch.